R. F. Galli Erects
New Offices for
Headquarters



A successful climax to the story of a home builder's persistence in the face of heavy odds is written, today, with the announcement of R. F. Galli that the volume of 1935 business has necessitated expansion of his one-man organization into a sizable staff, which will occupy its own building.

A structure now being erected at 377 West Portal avenue, near Fifteenth avenue, will house the Galli homebuilding concern on its completion, about September 15.
GALLI CARRIED ON.

Commenting on the contemplated expansion, yesterday, the builder who carried on continuously through the depression months when practically all others abandoned hope of a revival of interests in new homes, admitted there were times which tried his faith. But, that he never stopped is known throughout the industry. A few of his comments denote the changing conditions in the home building business, such as:

"In the face of an obvious shortage of new homes, we believe in the revival of demand and proceeded accordingly to erect h i g h - g r a d e dwelling structures. I am convinced that our present activity largely resulted from public recognition of our efforts to keep the business alive."
FORMED BUILDING GROUP.

When the financing problem was acute and ordinary sources of credit were closed, we obtained private loans for home buyers."

"The co-operation of subcontractors and material firms helped us to keep the ball rolling and we now have virtually a unified group of firms supplying quality materials and craftsmanship on Galli-built houses."

Galli is building in many locations throughout the western section of the city and has purchased numerous additional lots for the selection of prospects in various income brackets. California veterans have purchased a number of his houses under their State Home Loan certificates.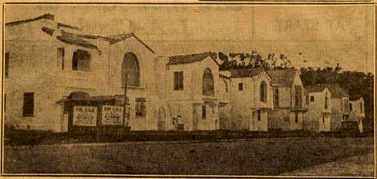 ROW OF GALLI-BUILT HOMES IN MERCED MANOR
Open For Inspection at Twenty-third and Ocean Avenues


Back
Profile
History
Original News Article (100k)
Original Full News Page (200k)
Office at 377 West Portal (in 2004)
*Our second office, built in 1935.